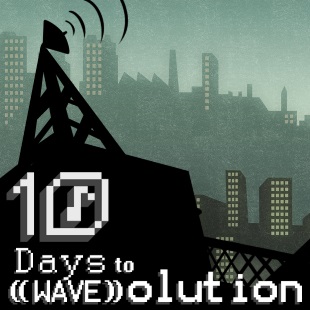 10 Days to ((WAVE))olution
[Game available in both French and English][Jeu disponible en français et anglais. Texte français plus bas.]

An announcement has been made by the Minister of Megapolis: in 10 days, a referendum will take place to decide whether to ban music from the City or not.
You are the head of a clandestine radio and you have to convince people to prevent the banning of music by sending them disruptive artists to help mentalities change.
Everyday, you can either send bands to the various districts of Megapolis so they can improve their skills by learning from the people and increase their audience, or make them record and air songs that will help reach more people. The higher the skills, the happier the people, and the more likely they will vote to keep music authorized.
Each artist and each district have their speciality, so it's up to you to build the best strategy to keep the music alive and free for everyone!
This game was made in 48 hours during Global Game Jam 2017, which theme was "waves". It was made possible by lots of chocolate croissants, orange juice and sleep deprivation.
It is currently undergoing beta-testing, so if you'd like to take part in it, please feel free to leave us a comment with your infos!
We hope you'll have fun playing when we release it! Don't hesitate to give us feedbacks through comments, e-mails, Twitter or Facebook!
Elly, Armin, Tom and Lia
Triiiiniteam Studio

___________________________________
L'annonce vient d'être officialisée par le Ministre de Megapolis : dans 10 jours, un referendum décidera de l'interdiction ou non de la musique dans les rues de la Cité.
Vous êtes à la tête d'une radio pirate et vous devez convaincre le people de Megapolis d'empêcher cette interdiction en envoyant des artistes dissidents tenter de faire évoluer les mentalités.
Chaque jour, vous pouvez soit envoyer des groupes dans les différents quartiers de Megapolis afin qu'ils augmentent leurs compétences en apprenant de leurs rencontres et qu'ils fidélisent leur public, soit leur faire enregistrer et diffuser des chansons qui leur permettront de toucher plus de gens. Plus hautes seront leurs compétences, plus convaincus seront les gens qui écouteront, et plus grandes seront les chances que le vote penche en faveur d'un « non » à l'interdiction.
Chaque artiste et chaque quartier a sa spécialité : à vous de construire la meilleure stratégie pour faire en sorte que la musique reste libre et disponible pour tous !
Ce jeu a été fait en 48 heures durant la Global Game Jam 2017, sous le thèmes « vagues/ondes ». Une grande quantité de pains au chocolat, de jus d'orange et de manque de sommeil a rendu sa réalisation possible.
Nous sommes en train d'effectuer une session de beta-test : si vous êtes intéressés, laissez nous un commentaire avec vos informations et nous vous enverrons une clef de test !
Nous espérons que le jeu vous plaira à sa sortie. N'hésitez pas à nous faire part de vos impressions par commentaire, e-mails, Twitter ou Facebook !
Elly, Armin, Tom et Lia
La Triiiniteam
We would also like to thank our great Hivemind for the crowdsourcing of silly song names for this game. / La Triiiniteam souhaite remercier son formidable Esprit-De-Ruche pour lui avoir fourni des noms très inventifs pour les chansons dans ce jeu :
Mathieu Rivero
Rin
Arielle
Finrielle
Loic
Yotroll
Lalette
Benoit Launay
XetraSherpa
Download
Click download now to get access to the following files:
10d-tr_GlobaGameJamEdition.zip
20 MB